Exterior Woodworking in Luxembourg
A passion for all that is woodworking as evidenced by the quality of our past projects completed!
Front Entry Doors: A unique design that also secures your home
Made of pure wood or combined with aluminum, glass or PVC, the front entry doors that are designed and manufactured in the workshops of Christophe De Schräiner standout for their unique, heavy-duty design and their perfect, flawless finish. Specializing in customized solutions, our craftsmen can design the perfect entry door for your property…
Windows and French Windows: Models specially designed for your home
Several parameters determine the functionality and appearance of your custom window or French window, namely the type of glazing, the color, the material, the security, the insulation and the budget. The craftsmen at Christophe De Schräiner will ensure to design and manufacture the model of window or French window that perfectly suits you.
Balconies, Guardrails and Railings: For an appearance that enriches your home
Balconies, guardrails and railings are also our specialty. At Christophe De Schräiner, we make them in a single plain material or combined with captivating aesthetics and a functionality that ensures your safety. Our work meets the highest demands expressed by our customers in terms of practicality and safety.
Terraces: An exterior space where you can enjoy the sun
The terrace is an open-air living space that carefully highlights the style of your interiors. Christophe de Schräiner is committed to creating a wooden terrace where you can enjoy the sun or receive your guests in a warm and enchanting setting. We will take on your entire wooden terrace project, from the very concept to furniture layout.
In need of custom exterior woodworking?
Request your FREE QUOTE for custom exterior woodworking!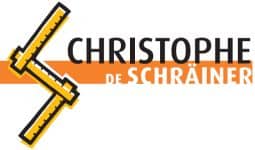 Contact
Christophe de Schräiner S. à r.l.
98, rue de Mersch
L-8181 Kopstal
Luxembourg
Phone : +352 26 32 00 27
Mobile : +352 621 51 63 77
Fax : +352 26 32 04 80
E-mail : christophe@schrainer.lu